KOREA-IS THE SECOND TRUMP-KIM SUMMIT NECESSARY?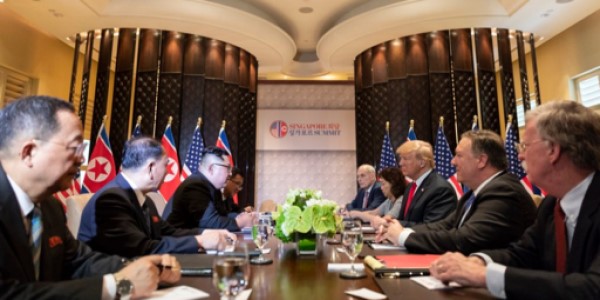 Bilateral meeting with respective delegations during the DPRK–USA Singapore Summit, June 2018. Wikimedia Commons
By Khang Vu
The Interpreter-Oct 18
The third summit between the leaders of North and South Korea last month was a huge accomplishment for Moon Jae-in and Kim Jong-un. At home, Moon's approval rating shot up from 49% in early September to 65% a week after the summit, largely due to his successful efforts to jump start the denuclearization process with Pyongyang. Kim got the chance to publicize his economy-focused "new strategic line" to the world through North Korea's Arirang Mass Games, and created an image of peace with Moon thanks to the signing of a military agreement that would decrease forces along the inter-Korean border.
Read more at: https://www.lowyinstitute.org/the-interpreter/second-trump-kim-summit-necessary
First published in: The Interpreter