OPTIMISM FOR ROHINGYA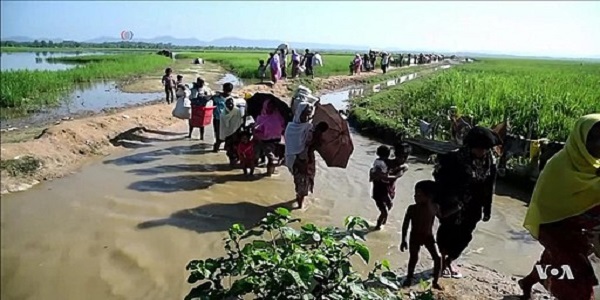 The Bangkok Post-Apr 16
After months of a mix of cruelty and ineptitude, the Myanmar government has taken a small but possibly significant step on the Rohingya crisis. The Aung San Suu Kyi government has sent its minister of social welfare to Bangladesh. It was noteworthy that during the visit, Win Myat Aye spoke directly with Rohingya refugees and told them they could return to Rakhine state.
There is a lot to do, and more to make up for before the Rohingya crisis can ease, and the victimized refugees can reverse their flight. It is vital that Ms Suu Kyi and her government continue the process begun last week with Rohingya at Cox's Bazar in Bangladesh. Win Myat Aye is the man in direct charge of preparing for the return of the Rohingya to Rakhine, so his visit to the refugees is important.
Myanmar has made a show for months about repatriating the Rohingya. The government's credibility is strained, to say the least. The United Nations says some 700,000 Rohingya were forced out of Rakhine state during an ethnic cleansing bout. Most left or were pushed out during the September-December period last year. There is no doubt that mass murders and total razing of villages contributed. Even the army, instigator and instrument of the expulsions, has admitted to a mass killing of 10 Rohingya, prosecuting soldiers it claimed were responsible.
There was an extremely important fillip during the Myanmar minister's brief talk with journalists as he left the meeting with about 50 Rohingya refugees. Reporters asked him if the issue of citizenship had come up. A chief cause of Rohingya troubles is the claim by Nay Pyi Taw that they are "Bengalis", although born and resident in Myanmar for generations. For the first time in any conversation with any Myanmar government or military official, Win Myat Aye responded positively and encouragingly.
"We are trying to have that," he said specifically. That is still a long way from "yes, the Rohingya are Myanmar citizens" — which they surely are under any decent standards of any country or international group. But it is leagues beyond what even the Nobel Peace Prize laureate Suu Kyi has said. Indeed, she has been strident in her insistence that the Rohingya are not Myanmar nationals and not entitled to citizenship.
But first things first. Myanmar agreed last year, in principle, to repatriate the Rohingya. Two problems cropped up immediately. First, Myanmar would accept only those able to prove beyond doubt that they were residents of Myanmar. That's a Catch-22, since Rohingya do not have Myanmar identity papers. The second and potentially greater problem is that the Myanmar army and Buddhist villagers have seized the land all belongings that the refugees left when they fled.
To date, the Myanmar government's repatriation plan is to allow some, perhaps many Rohingya to cross the border back into Rakhine state. But refugee camps are almost the only housing available. Myanmar promises nicer camps and surroundings than the camps around Cox's Bazar. But a refugee camp, no matter what its appearance and facilities, is a place of hopelessness. Residents have no opportunity.
Clearly, Myanmar needs massive outside help. ASEAN has been timorous to the point of near-invisibility. Saudi Arabia and Turkey have shouldered most of the costs of feeding and building basic facilities for the Rohingya in Bangladesh. A major program of resettlement is clearly needed. Equally clearly, Myanmar itself is unequipped to undertake such a project.
Last week's intervention by minister Win Myat Aye is the most optimistic sign yet that Ms Suu Kyi's regime is willing to listen and to act. The regime must admit where it lacks capability, and reach out to foreign friends. For starters, ASEAN must step up and show it is willing to intervene deeply to solve this humanitarian and legal problem.
(first published in Bangkok Post – https://www.bangkokpost.com/opinion/opinion/1446659/optimism-for-rohingya)